EAT FROM THE TOP OF THE HOURGLASS
It's a big ask in our society expecting to stay healthy without being fit. It's also a big ask expecting to stay healthy if you're eating
| | |
| --- | --- |
| • | too little of those foods which nourish the cells of your body |
| | |
| • | too much of those foods which are high in fat, flour and sugar, which cause you to stack on fat around your body, contribute to metabolic, musculo-skeletal and psychological dysfunction and which may cause an intolerant or allergic reaction in one or more body systems, |
In this one hour seminar you'll learn how to eat from the top of the hourglass.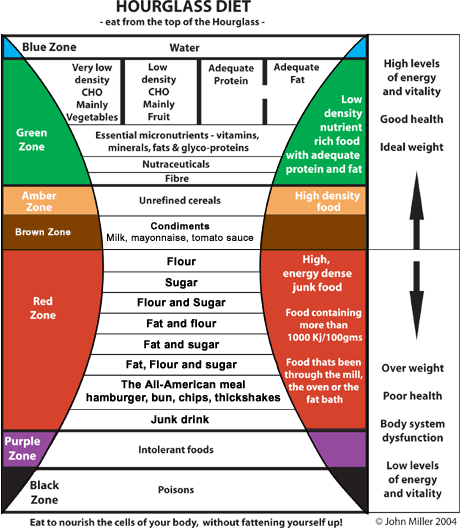 In a nutshell the Hourglass Diet is a model that has good food at the top and junk down the bottom. Once you get the hang of the difference between good food and junk food, the battle is half over.
The Hourglass diet contains nutritional guidelines that encourage you to:

• eat to nourish the cells of your body

• satisfy your hunger

• maintain an ideal weigh and

• support good metabolic, musculo-skeletal and psychological health.

Couple the Hourglass Diet with regular vigorous exercise and you'll certainly be rewarded with good health.

If you're not in good health and you find it easy to put on weight, change your eating habits and eat from the top of the Hourglass.
| | |
| --- | --- |
| • | Eat adequate amounts of vegetables and fruit. |
| | |
| • | Eat adequate protein and fat. |
| | |
| • | Eat less of the high density refined garbohydrates (yep that's a 'g' not a 'c'), the cereal-based foods like bread, pasta, breakfast biscuits, biscuits and cake..., along with eating less sugar. |

Once you've tried out the Hourglass way of eating you will be in a good position to decide exactly how to eat wisely for the rest of your life. For most people this means becoming very circumspect about the amount of flour and sugar in their diet, and getting the right amount of fat, protein, micronutrients and fibre.
THE HARD PART
Knowing how to eat wisely is one thing, but it's by no means everything. Put it another way:
'Why is it that I find it easy to do the things I don't want to do than it is to do the things I do want to do?'

Knowledge counts for little if for some psychological reason you are unable to put it into action.
The second section of the seminar examines:
• The physiological basis of hunger
• The psychological basis of hunger
• Satisfying the inner hunger
• The great iceberg of life
• Using inner mental training to reprogram the subconscious mind.
THE BENEFITS OF EATING FROM THE TOP OF THE HOURGLASS
| | |
| --- | --- |
| • | You'll be eating to nourish the cells of your body, and not just fill up your stomach. |
| | |
| • | You'll feel better, have more energy and vitality. |
| | |
| • | You'll have less headaches. |
| | |
| • | You'll have less body fat. That means you'll get closer to your ideal weight. |
| | |
| • | There's a fair chance your blood pressure will decrease, as will blood glucose and cholesterol. |
| | |
| • | You'll have a more efficient elimination system. |
| | |
| • | You'll have lower incidence of bowel disease, constipation and piles. You'll be getting rid of the waste products of your own metabolism and the waste products of a toxic environment with ease. |
| | |
| • | You'll have better mental acuity and concentration - and less likelihood of becoming depressed. Few people realize that aspects of depression are physiologically generated. |
| | |
| • | You'll have a musculo-skeletal system that functions better. If you get enough of the omega 3 fats you're less at risk of becoming arthritic. |
| | |
| • | You'll have a stronger immune system |