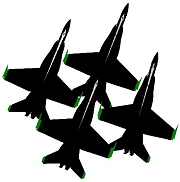 What is the Green Prescription concept?
The Green Prescription is a prescription directed at improving health, fitness and wellbeing through the mediums of
| | |
| --- | --- |
| | physical activity |
| | |
| | diet |
| | |
| | personal development. |
In particular, the Green Prescription is focused on improving physical fitness by advancing the fitness industry into the frontline, the vanguard, the phalanx of primary health care for the personally-generated body system dysfunctions.
THE FRONTLINE OF PRIMARY HEALTH CARE
- for personally-generated body system dysfunctions -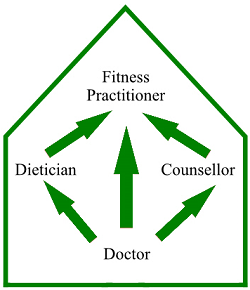 The Green Prescription provides people with pro-active solutions for the management of their personally-generated body system dysfunctions.
The Green Prescription is based on the philosophy of the US Surgeon General, Julius Richmond, who in 1979 said,
You, the individual, can do more for your own health and well-being than any doctor, any hospital, any drug, any exotic medical advice.
The aim of a Green Prescription is to restore poor health to good, not mask symptoms.
The advent of the Green Prescription expands the concept of primary health care to include not only medical practitioners, but also fitness practitioners, dieticians, counsellors - and yoga teachers - in fact anyone who can assist people to improve their health fitness and wellbeing.
The end point is people becoming competent enough to advise themselves on what they need to do to stay fit and healthy - and putting their knowledge into action.
Best practice primary health care
Metabolic health
A vigorous aerobic exercise program coupled with a diet, low in flour, sugar and milk, with a moderate intake of meat/fish/chicken (vegetarians excepted) and a high intake of vegetables and fruit - are the foundations of good metabolic health.
Musculo-skeletal health
A regular and systematic strength and flexibility training program keeps the skeleton in good alignment and supported by a strong musculature.
With respect to the common musculo-skeletal dysfunctions, joint and muscle pain is not caused by a lack of rubbing, crunching, heating, vibrating, strapping or doping. On the contrary; the most frequent causes of joint and muscle pain are
| | |
| --- | --- |
| | tight muscles that have moved bones out of alignment |
| | |
| | weak muscles that don't allow people to do the normal, every day tasks - lifting, pushing, pulling and propelling - without breaking down. |
The fix is relatively simple – loosen tight muscles and get the skeleton back into alignment and strengthen weak muscles.
Mental health
With respect to the non-clinical psychological dysfunctions, people with low mood and lacking energy and vitality may be helped by regularly seeing a counsellor, eating wisely, dramatically increasing their daily 'dosage' of vigorous physical activity, and using the various Green Prescription inner mental training apps.
Assessments and Programs
At the Green Prescription we've developed a range of health, fitness and wellbeing assessments and programs that have been specifically designed to enhance metabolic, musculo-skeletal and mental health.
We encourage people to join a fitness centre and treat their membership fees as an investment, not a cost.
Green health technology
Green Health Technology provides people and their health advisors with the ability to electronically monitor their progress.
Commitment, focus and persistence
The nature of the Green Prescription is that no-one can do it for you. You're going to have to do it to yourself.
COMMITMENT

Until one is committed, there is hesitancy, the chance to draw back. Concerning all acts of initiative (and creation), there is one elementary truth, the ignorance of which kills countless ideas and splendid plans: that the moment one definitely commits oneself, then Providence moves too. All sorts of things occur to help one that would never otherwise have occurred. A whole stream of events issues from the decision, raising in one's favor all manner of unforeseen incidents and meetings and material assistance, which no man could have dreamed would have come his way. Whatever you can do, or dream you can do, begin it. Boldness has genius, power, and magic in it. Begin it now.

WH (Bill) Murray
The Scottish Himalayan Expedition (1951)


FOCUS

The secret of change is to focus all your energy not on fighting the old but on building the new.

Socrates

PERSISTENCE

Nothing in the world can take the place of Persistence.

Talent will not; nothing is more common than unsuccessful men with talent. Genius will not; unrewarded genius is almost a proverb.

Education will not; the world is full of educated derelicts.

Persistence and determination alone are omnipotent.

The slogan 'Press On' has solved and always will solve the problems of the human race.

Calvin Coolidge

30th president of US (1923 - 1929)